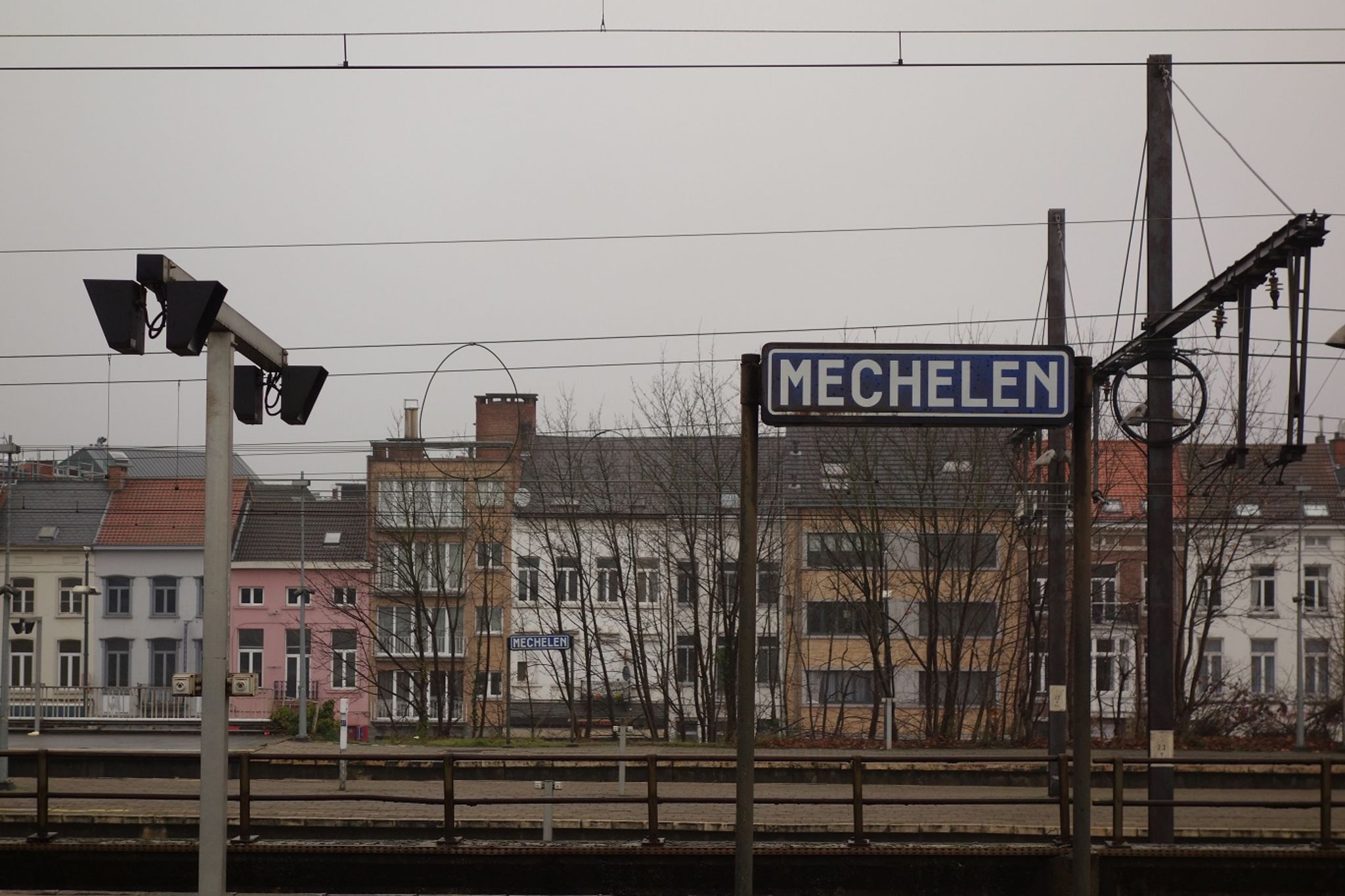 The train from Brussels to Mechelen takes under half an hour. The cities are so close that on a clear day, you can see Brussels' most iconic landmark, the Atomium, from the top of Mechelen's St. Rumbold's Tower. The journey between the two passes through semi-industrial and suburban landscapes, never quite breaking clear of human habitation. The chimneys of sprawling factories pump smoke into cloudy skies, and the spires of Catholic churches puncture the skyline.
Yet despite its proximity to the European capital, Mechelen has a completely different feel. It's in Flanders proper, and the lingua franca is Dutch. The town centre is charming in a neat and ordered way. Tall, thin buildings sport elegant facades, boutiques offer expensive dresses, and patisseries bustle with well-heeled patrons. You can tell there has been significant investment in the city centre – it feels recently renovated, clean and new.
You would never guess that it used to be known as 'Chicago on the Dyle' (referring to the river that runs through it) and had a reputation for being dirty and unsafe. That people avoided the city centre, there were many boarded up houses, and even more dark corners.
Its commutable proximity to both Brussels and Antwerp and its relative affordability have long made it an attractive prospect for immigrants. In 1964, Belgian authorities signed bilateral agreements with Morocco and Turkey, which encouraged the arrival of 'guest workers' to meet employment needs during a time of rapid economic expansion. Many Moroccans subsequently settled in Mechelen permanently.
Half of all children born in Mechelen now have a foreign background, mostly Moroccan. Yet despite media focus, there are not just Muslim communities here. There are also orthodox Armenians, Sub-Saharan Africans and a large number of Assyrians who fled Turkey's troubled South East during the 80s and 90s. Yet, rising unemployment and lack of coherent security policies led to criminality, and feelings of insecurity were often blamed upon migrants.
Now, thanks in part to efforts by its mayor, Bart Somers, it has become known for different reasons – for being a city that welcomes immigrants, providing them with opportunities to contribute to the city's society, economy and culture. In office since 2001, Somers even won the World Mayor award earlier this year in recognition of his work.
Asked him how he measured the success of his integration policies, he replied: "The number of people feeling proud of their city has increasingly grown from 54% to almost 75%, and I'd say that's a good sign, knowing too that we've grown in our super-diversity – with more than 131 different nationalities living together in our city [of 84,000]. And so far, no one from our city left to fight in Syria. That doesn't mean that we don't have any problems… but it does show that our social network is strong."
A Realist Attitude
In her nomination of Bart Somers for the World Mayor award, Machteld Verbruggen, President of Thomas More, the largest university college in Flanders, stated that her university had copied the inclusive policies that the mayor introduced, writing: "He considers all people living in Mechelen as "Mechelaars", inhabitants, and that is how he addresses them." Indeed, it is this use of language that many praise Somers for, that and his firm-but-fair approach, in which he expects everyone to take responsibility for their own actions.
The university doesn't register the ethnicity of its students, or offer halal meals in the cafeteria (instead they offer a diverse menu, listing all ingredients so students can choose a meal that suits them). Nor, like a university in neighbouring Antwerp, do they have a migrant student representative council. While these might seem like unusual measures for an establishment with a large number of migrant students, they're a part of a deliberate policy to treat all students as equal and bring them together, rather than allowing them to divide along ethnic lines. "We don't differentiate – they are all our students", said Verbruggen.
There's a noticeable lack of security at the university – no key card entrances or security guards carrying out checks. This is because they want to be open, and not treat students like potential terrorists. Yet, like the mayor, they also takes a tough love approach – students don't get a free ride, "whatever their background, they have to work for it".
They also acknowledge and respect different identities, rather than trying to ignore them. It's still a Catholic school and they issue Christmas cards, rather than the more inoffensive 'happy holidays'. But in the pack of cards, there are also ones wishing 'Rosh Hashanah' and 'Eid Al-Fitr Mubarak'. "This is not paradise you know" says Verbruggen, who takes a typically realist approach. "We're not saying that migration is good or bad, but it is here. And we have to make the best of it. Education adapted to incorporate computer technology, and this is just another example of an evolving world".
Practical Approaches
It's this pragmatic approach and investment in practical solutions that sets apart the 'Mechelen Model'. "Policy is of course only one side of the story", said Somers, "the real change happens on the ground level. As a city we support organisations that promote our idea of integration." One such project is Samen Inburgeren (Integrating Together), a buddy scheme that pairs a newcomer with a migrant background with someone that already knows the city well, and they meet up regularly over a six-month period. Last year some 58 pairs were matched, and they boast of 257 intercultural friendships formed in the five years since it began.
Senegalese-born Lamine Sambou Diabang, was paired with Belgian, Erwin Wauters. After several years of developing their friendship, Lamine and Erwin travelled together to Senegal believing that integration should be a two-way street. And last year Lamine was presented with a certificate for being the 'best Mechelaar' – in recognition of the assistance he provided at events celebrating 50 of diversity (since the 1964 arrival of guest workers). "There's been problems with terrorism elsewhere in Belgium" he says. "But not here. In Mechelen, people come together and work out their problems."
Another organisation the city supports is School in Sight. It aims to promote diversity and end monoculture in schools, countering prejudices that might make parents take their children to schools where they are in the majority ethnic group. Instead, it encourages them to consider schools closer to home with a more diverse ethnic make-up. According to Somers, this is: "Not only because it's better for the school to combat concentration, but also because it's better for their own children – because they learn to participate in a culturally diverse class, which reflects the diversity we live in."
Beside these flagship programmes, the council are working to improve pride in the city in other ways. They have massively increased security measures, and brought in a tax to ensure that buildings are not left empty while owners speculate. They are also working to counter tendencies towards ghettoization by knocking down high-rise social housing and rebuilding in a way that fosters integration.
The 'Refugee Crisis' and Mechelen
The number of migrants arriving in Belgium has risen again recently. During the height of the 2015 'refugee crisis', the Belgian government asked all cities to welcome refugees. Under pressure from grassroots organisations, Mechelen agreed to take 150 refugees and they arrived from Syria, Afghanistan, Iraq and Sub-Saharan Africa.
In response, Welcome in Mechelen, an NGO network of committed citizens who "roll up their sleeves" to give a warm welcome to asylum seekers, refugees and newcomers to the city, was founded. They organize city walks, football matches, cookery workshops, multicultural parties and other events, labouring to bring people together and help relationships form.
They find that the biggest problems that refugees face are in finding work, accessing education, and issues with qualifications from origin countries not being recognised. Ng Sauw Tjhoi, a Mechelaar of Chinese-Indonesian origin who has lived in the city for nearly 30 years, is one of the founders. He said: "Mechelen now has an image of being open to migrants. This may be true, but it is not paradise. There are still problems with poverty, homelessness and social issues."
In answer to the question of whether there is more that the mayor could be doing on this front, he said: "I respect his personal opinion and local initiative and I think he has a good heart. But as group leader of his Open VLD (Open Flemish Liberals and Democrats) party in the Flemish parliament, there's more he should be doing on a national level."
A recent survey by 11.11.11, a coalition of NGOs, unions, movements and various other solidarity groups in Flanders, showed that eight out of ten Flemish citizens find it important to show solidarity with people who are struggling and want to help refugees. This flies in the face of the populist politics embraced by those on the right within the Belgian government and all across the European continent.
Populism is something Bart Somers is outspoken about trying to fight, claiming: "We have to own the narrative again, make it positive. The European Union and its inhabitants have a dream; the European version of the American dream – if you work hard, if you do your best, you can get a better future for yourself and your children. If we can no longer guarantee the promise of upward social mobility, our dream will become extinct. The thing that destroys that dream the most is racism and discrimination."
Yet, Somers is not without his critics. Some claim that he has spent too much on cosmetically improving the centre while neglecting the more deprived neighbourhoods where poverty is still an issue. Others believe that while he talks a lot about participation, there are few opportunities for citizens to really get involved. Many are critical of his choice of coalition partners – while his alliance of liberals and green won the most votes in the last local elections, they formed a coalition with N-VA, the Flemish nationalists to take power.
I spoke to N-VA city councillor, Melikan Kucam, who was amongst the first Assyrians to settle in Mechelen in 1984. He thinks luck has a big part to play in the success story of the 'Mechelen model': "I don't believe policies can make it better for people to live together. The city can do a lot – we can build parks, schools, hospitals and infrastructure but making people live well together? It's only people that can do that. We're lucky that the people of Mechelen are very friendly, they take pride in their city, and there is industry and employment here for those that want it".
Like many others, he also thinks that the strict approach the council has taken to security has been key. "We have cameras outside both the mosques and the churches – the key to integration is neutrality; everyone should be treated the same." Yet he believes that part of the 'Mechelen Model' has seen funds being poured into Moroccan initiatives. And while other communities may complain about that they receive much less help, he can't help but admit that it works.
The parents and grandparents of Samira Essiaf arrived from Morocco in the late 60s. Now CEO of the European Society for Paediatric Oncology, she feels grateful for the opportunities she has had and sees it as her duty to give something back, saying: "I'm a strong person, but I want to open the gates for people in my community that are perhaps less strong but are full of potential." She speaks in schools, trying to motivate young people and teaching them not to believe their migrant background gives them a disadvantage: "I tell them, don't just try three or four times then give up. Try 100 times and keep on trying until you get what you want."
It's this positive-realist approach that perhaps best sums up the 'Mechelen Model'. And, whether it's down to luck, an impassioned mayor, the hard work of grassroots organisations, or the nature of Mechelaars themselves, it seems to be working. Mechelen may not be paradise, but it is an example of a city that is prepared adapt to changing times and, in doing so, carve out its own narrative.