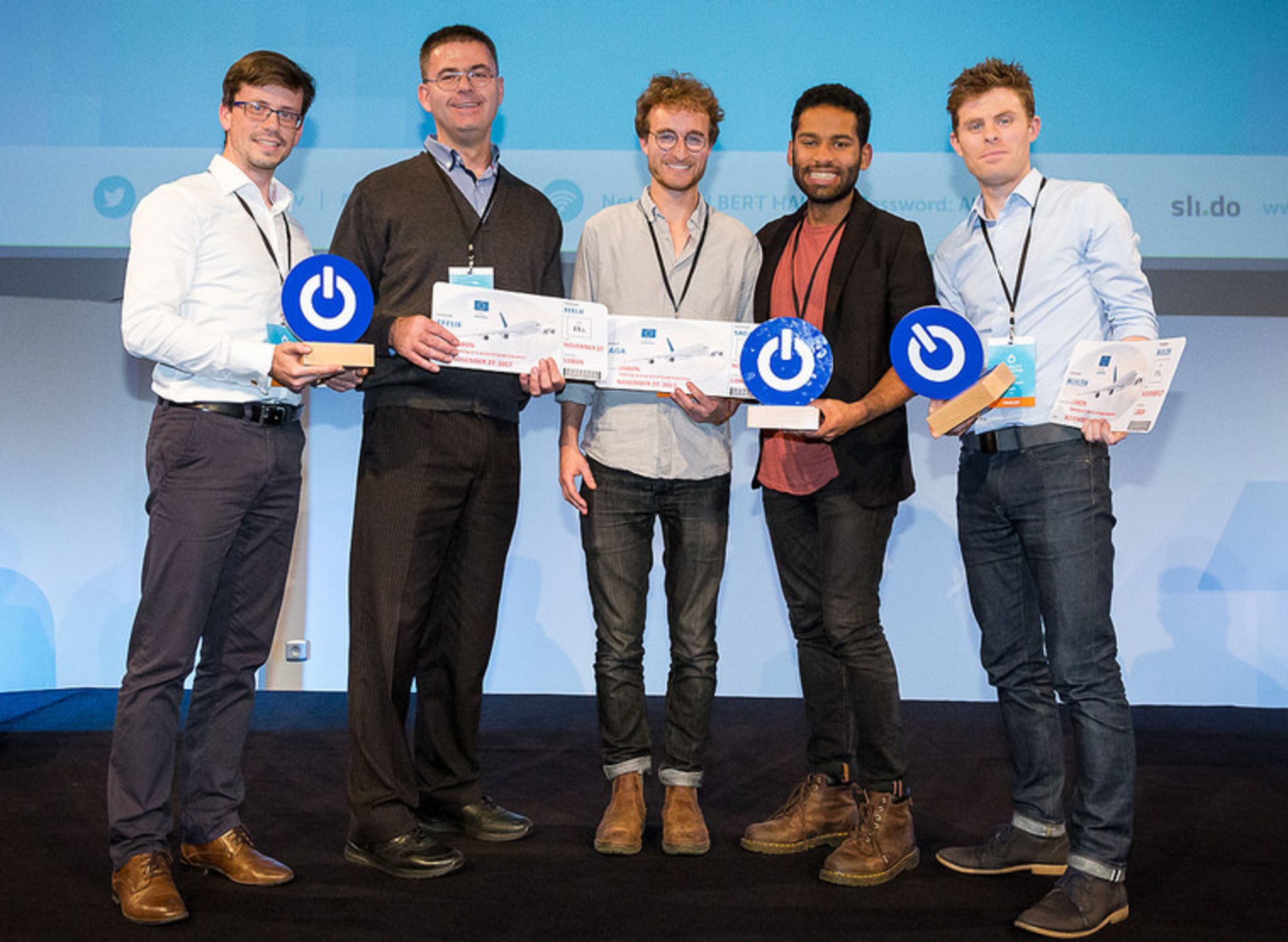 In the not too distant future, you might be able to build your own eco-friendly home with the help of an online tool called Buildx, developed by a small team in the UK.
In Slovenia, visually impaired children can play games and draw using special tablets with bumps on the screen which they operate by touch, invented by Feelif, a start-up based just outside Ljubljana.
And if you fancy learning about blockchain – or almost any other subject – you should soon be able to find a local expert to teach you, thanks to Saga, an online platform created by two young men in the Netherlands.
These are the three winning projects from this year's European Social Innovation Competition, announced in Brussels at the end of October. The competition is part of the European Commission's drive to rebuild its countries' economies after the 2008 economic crisis and, at its heart, is the notion that 'social innovators' – entrepreneurs who develop ideas which can change the world for the better (usually independently of big business or the public sector) – have some of the solutions to Europe's problems.
As Grzegorz Drozd, manager of the competition for the European Commission, explains: "Social innovation is rooted in local communities, but it can be transformed into other contexts. It can scale up into other areas of Europe.
"This competition shows that social innovation can be a concrete tool to face the challenges of today."
Tech for everyone
The 2017 competition, now in its fifth year, was labelled 'Equality Rebooted' and the judges invited entries from people with ideas to ensure that everyone – whatever their abilities or status – can reap the benefits of all the new technologies that are now available.
Entries opened in February 2017 and more than 800 projects from 40 countries across Europe applied. After a first round of judging, 30 were selected as semi-finalists with the hope of becoming one of the three winners, who each receive a €50,000 prize.
In July, these semi-finalists attended a two-day event in Madrid – the social innovation mentoring academy. As the city sweltered outside, the cool, polished-concrete space of the Medialab-Prado cultural centre buzzed with the chatter of dozens of the brightest minds in Europe working hard to hone their business plans with the help of experts brought in by the European Commission. They exchanged experiences, attended workshops and developed their 'elevator pitches' – how to explain their often-complicated concepts in a few soundbites.
These concepts ranged from the fairly easy to grasp Parkingspace Invaders, an app developed in Hungary to help people with disabilities find parking spaces, to the much more esoteric Bincome, an alternative currency whose aim, its Bulgarian developers explain, is "to digitise inflation and to use inflation to create funding for a basic income".
One of the aims of the mentoring academy was to inspire the semi-finalists by taking them out into the city to show them other social innovations that are going on right around them. Madrid was chosen this year as it is a "hotspot for social innovation", says Grzegorz. He explains that following Spain's deep financial crisis, which peaked in 2011, lots of initiatives have developed to address the country's inequalities and the unhappiness of many young people with the political system.
An example is La Ingobernable. It is based just across the street from Medialab-Prado in a former university building, later a health centre, which had stood empty for several years as disputes raged over its future. In 2013, a collective of activists occupied the building and now it is a lively community centre open to local groups as a place to run yoga and theatre workshops, hold meetings and make connections. The bland institutional walls are now festooned with demonstration posters, one room has been transformed into a colourful children's soft play area and on the top floor whirr the servers, routers and computers of the 'hacklab', a place for Madrid-based IT whizzes to develop open-source software, new programs and websites.
A group of the semi-finalists was shown around La Ingobernable by Mikel, one of the activists. It's vital, he explained, to have such a community space in the heart of a city, where gentrification and an increase in tourism is leading to spiralling rents and local people being pushed out.
From the grassroots up
Delving into the grassroots of communities to see what it can find is fundamental to the European Social Innovation Competition. In the words of Grzegorz: "[The competition] is designed to support change through a bottom-up, co-creative and participatory process at the local level."
This approach is important because, as several of the participants explain, we can't rely on only big business or the public sector to generate the changes we need to move our societies forward.
Alastair Parvin, co-founder of the WikiHouse Foundation, the social enterprise which runs Buildx, explains that his vision is to completely transform the way that the housing market operates so that everyone can have somewhere decent to live.
He says: "Fundamentally, a lot of the basic industrial and economic systems that we've relied upon for the 20th century are no longer working and what's needed now is for us to start innovating and prototyping new versions and new ways so that we can have better housing systems."
His colleague Helen Lawrence expands that being a small start-up enables this innovation to happen. "Disruption comes from the outside," she says. "It doesn't come from within a large organisation. We have the freedom to think differently and to act differently."
Surely it would be easier to develop a tablet for blind and visually impaired people from within the well-insulated walls of multi-national tech giant. Google, for example, is proud of its commitment to innovation: it encourages its employees to spend 20 per cent of their working time pursuing their own ideas which Google founders Larry Page and Sergey Brin have said empowers them to be "more creative and innovative". Resulting successes include Google News and Gmail.
Zeljko Khermayer, founder of Feelif, however, values the nimbleness and adaptability of going it alone. "Start-ups are very flexible so they can quite easily adjust to market requirements," he says. "The bigger the system is, the more difficult it is to apply rapid changes and breakthrough innovations. These are the reasons why I have my own start-up."
Start-ups have advantages, but there are big challenges too – one of the greatest is generating enough cash to keep everything running every day. (Taking the UK as an example, only just over half start-ups still survive three years after they're founded, according to the Enterprise Research Centre.)
Some of the previous European Social Innovation Competition winners have really taken off, such as 2015 winner, the Freebird Club, an Airbnb-style travel membership organisation for over-fifties which now has 1,500 members in 38 countries. Yet other projects have inevitably bitten the dust.
Nevertheless, failure is nothing to be ashamed of – something that is becoming increasingly accepted in the world of enterprise. Jessica Stacey was one of the competition judges this year and she's a partner at Bethnal Green Ventures, an investor in tech start-ups. She says: "The entrepreneurs we support are not afraid to fail and we expect some of them to fail many times, that's how they learn and advance."
So, while some of the European Social Innovation Competition's entrants may find things don't work out the first time, perhaps they'll pick themselves up and have another go.
And, in spite of their small size, this year's winners certainly have big ambitions. Taking one example, Alastair of Wikihouse Foundation, says: "We want to put the power to build sustainable homes into the hands of every single citizen and business on earth…eventually."
Header photo: The winners of the 2017 European Social Innovation competition: (left to right) Bostjan Jerman and Zeljko Khermayer of Feelif, Mathew Neary and Eric Boby of Saga, Alastair Parvin of the Wikihouse Foundation