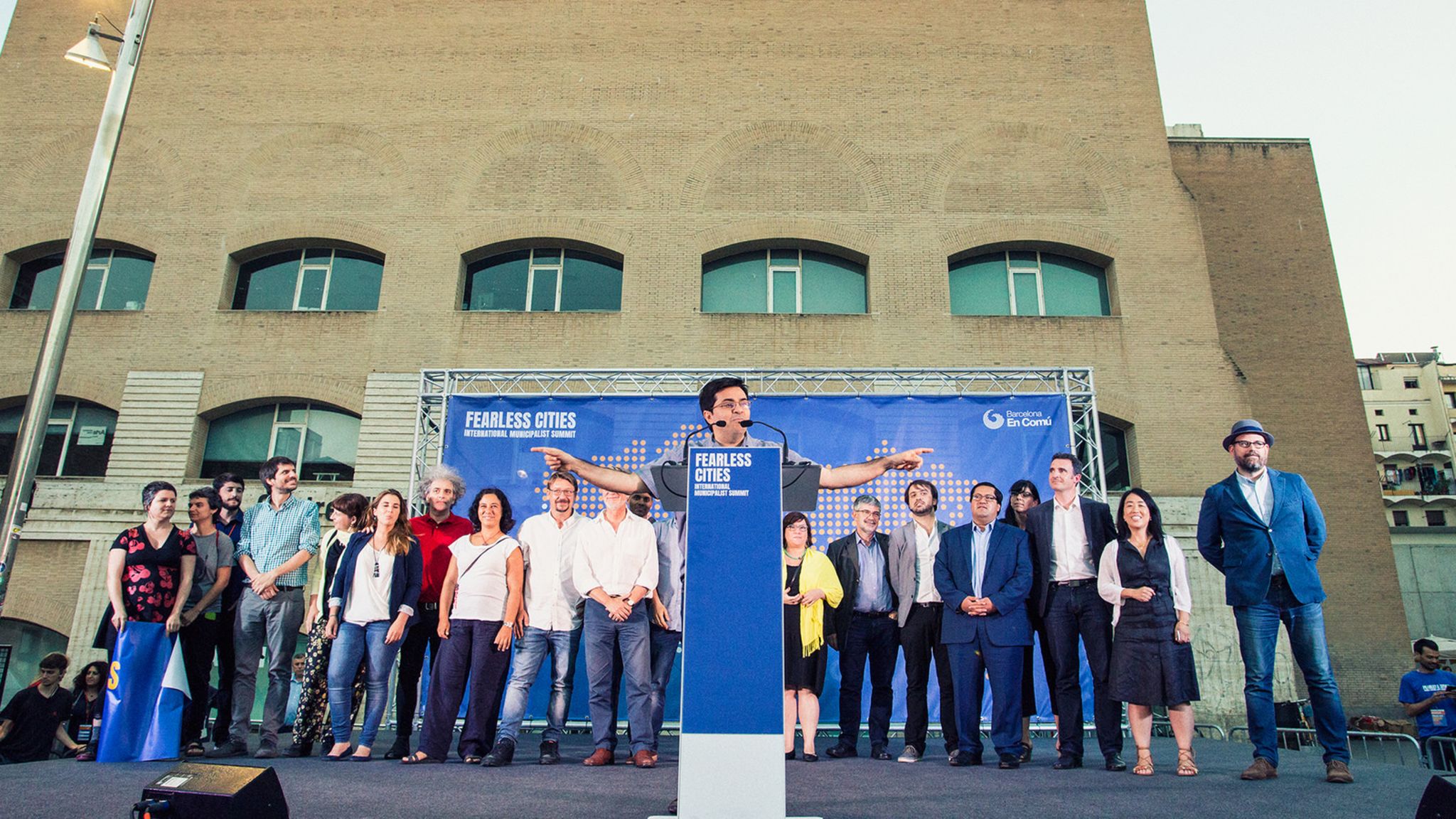 Catalonia's troubled path to independence has become the latest chapter in a story about European nation-states' difficulties. But in the capital Barcelona, progressive political change is taking place at the neighbourhood level.
"We think there is a new political space which isn't quite the traditional or social democratic left, and not quite social movements because it's willing to get into institutional politics, that we could call municipalism", reflects Kate Shea Baird. She has been part of Barcelona En Comú since the first public meetings.
Transforming Barcelona from bottom up
BComú has come a long way from when activists from social movements started to think about a political formation, opening its political programme for input from ordinary residents. In May it has been in power for three years, with a minority in the local government.
One of their recent achievements was to approve a strategy for limiting the harmful effects of tourism on the housing sector in Barcelona: in the centre of the city, permissions are not given to new hotels. The degrowth zone is surrounded by a stable zone, where a hotel can open if one closes – and on the outskirts, there is a limited growth zone.
Shea Baird describes the policy as a "victory of City Hall working with social movements". The idea of limiting tourism was very controversial with the opposition parties.
"When our government proposed the initial zoning plan, we put out one we thought might be votable by the opposition parties", she explains. "When it went out for consultation, many neighbourhood movements that were not in the degrowth zone put pressure on the opposition parties, saying they wanted to be in it. With that pressure from the streets on the opposition we managed to approve a much more ambitious plan we even hoped we could."
In the next months, Barcelona En Comú hopes to get even more leverage from the neighbourhoods for transformative policies. They are organising a "multireferendum": a referendum on multiple issues in the city. Anyone can make a proposal, and if it gathers the support of 15,000 people and gets voted through in the referendum, the city council will vote on it, too. There are currently three motions on the table: remunicipalising the water supply; renaming a square in the old town that now carries the name of a slave trader to instead honour the memory of a migrant who died in detention; and to save a community centre.
However, as Shea Baird points out, participation is more that voting. To facilitate deeper involvement of residents, BComú is using online participation platforms. They also take feminism seriously, and are engaged in finding ways to help those with time pressures to be more active in the organisation, such as providing child care at meetings.
Barcelona En Comú are the most famous face of the municipalist movement. Across the Spanish state, there are more rebel cities: Madrid, Cádiz, Zaragoza, A Coruña and Valencia, to name a few. It is almost easier to think of a major city that is governed by a progressive coalition rooted in social movements than of one that isn't.
But the spread of municipalism has not been limited to the Iberian peninsula.
Zagreb is Ours
In the Croatian capital Zagreb last year, a group of social and environmental activists, trade union organisers, cultural workers, social entrepreneurs and other politically engaged citizens came together to organise into a political platform for the local elections.
Zagreb had been governed by the same mayor for 18 years, and although not convicted, he has been investigated for numerous corruption scandals. He also pursued policies that many residents saw as harmful to the city – such as commodification of the public space, building large infrastructure projects through public-private partnership, privatisation of communal services – explains Drazen Cepic. Protests against these brought together a group of people who then decided to collaborate in a political organisation, Zagreb is Ours.
"The failure to prevent these policies [through protest] contributed to the change of heart among the activists regarding the appropriate means in achieving our political goals, including a rising awareness that engagement in the party politics is needed", Cepic explains.
Although only formed a few months before the elections, Zagreb is Ours won representatives on every level: in the borough and local councils as well as the city assembly. There they have brought into discussion topics such as housing and urban planning, water privatisation and public procurement.
"We put a lot of effort in trying to establish firmer links between councillors and neighbourhood groups", says Cepic. "The transition from campaign mode to the post-election mode entailed practical problems: how to facilitate communication between councils on different levels, or between councillors and neighbourhood initiatives. We still haven't resolved all this, but we are seeking to follow advice from our colleagues from Barcelona En Comú: to keep one foot on the street and the other foot in the institutions. One of the key steps concerns making the work of councillors more transparent, and we invested a lot of effort in communicating our work to the public. "
Many European cities are seeing a revival of local politics. In Belgrade, Serbia, a group that came together against a gentrification project are preparing to compete in the local elections. Municipalism has gained pace in Italy, too. The Naples mayor Luigi de Magistris has declared the city's social centres as a "common good" – declaring the buildings not occupied but liberated. Also the Sicilian city Messina is governed by a citizen platform Cambiamo Messina dal Basso, which translates as let's change Messina from the bottom up. The group has encouraged citizens to get involved in managing the city's commons, from urban gardens to a participatory budget.
Cities of change
Problems like corruption and putting profit before people also exist on a national scale. What is new about the radical municipalist movement is that it seeks to tackle these issues very locally, rather than on the state level of politics that usually gathers the most attention.
Bertie Russell, a research fellow at the Urban Institute at the University of Sheffield and a member of the UK organisation Plan C, explains that despite being often taken for given, the nation state has only occupied a brief and recent part of how we organise as societies.
"When you push somebody to explain it, you normally get people saying that's how things are. But we are trying to make things different. To do that, we can start to look at cities and the material reality where so much of life takes place, and say maybe this holds one of the keys, or scales, at which change will actually be able to happen. Cities may become more powerful, and maybe they already are more powerful than nation states."
The local scale also facilitates resident involvement.
"Participatory model of decision-making was one of the leading principles of our political platform", explains Drazen Cepic from Zagreb. "By this we mean to enable citizens to participate in the decisions which concern them. The aim is to strengthen the powers of lower municipal levels, such as local councils as the focal point closest to the citizens, as crucial for sustaining the habit of democratic involvement."
The majority of Europeans – as the majority of people in the world – live in cities. But Bertie Russell also offers words of caution about "fetishising the modern man and his cities". He speaks about the US city Detroit, once perceived as productive but now experiencing massive capital flight. This, Russell says, is an example of how wrong things can go in cities that are controlled by big companies.
"There is a continuous contestation about cities, who are they for, what are they for, who can control them, who should control them. It fundamentally comes down to democratisation: it's about who controls and how we control cities."
When I ask Russell about the dangers of focusing on cities – in the end, one of the recent political trends has been a divide between 'progressive' metropolises and rural areas that feel the appeal of right-wing populism – he points out that it is important to look at the diversity of cities. Most people do not live in "romantic global cities like Paris or Barcelona". For example, many towns in the north of England that were hit by deindustrialisation from the 80s voted for Brexit.
"Municipalism is about saying there is something about this level which might allow for a different type of organising", he says.
How to reach beyond cities?
Kate Shea Baird from Barcelona also says the organisation has become more conscious of adapting the language of municipalism to include smaller towns. "When we started, because we are a big city, we talked quite naturally about cities of change, cities and cities... But when we started to work with people from smaller towns, we started to realise that cities – that for us was a synonym of local, not urban – was actually something many people from towns do not relate to."
Municipalism in small towns was one of workshop topics at a gathering Barcelona En Comú hosted last summer. Called Fearless Cities, the two-day event brought together people organising on the municipal level from Europe to the US and South America. And one of the working groups in BComú Kate Shea Baird is part of is the international one.
Despite these strong unofficial links, there is little official space for collaboration in Europe. Bertie Russell points out that EU legislation often works against the interests of local self-management. One way this happens is legislation on procurement – public bodies are not allowed to choose providers for example on the basis of them being a local company as that would violate competition rules.
Russell can imagine some ways in which the EU could help to shape collaboration between cities. Decision-making power could be left in the hands of cities or city-regions, as could building inter-municipal utility companies: "Facilitating collaboration between cities in terms of collaborative management or ownership of utilities would be a really big thing." However, he does not believe any of this would take place in the EU we know.
At the Barcelona office of En Comú, Kate Shea Baird reflects on the European dimension. "It's something we are thinking about at the moment because the next municipal elections in Spain coincide with the European elections. So we'll have the two campaigns at the same time, and what we want to do between now and then is to start to think about what European competencies or directives relate to our municipal battles."
Whether Barcelona is still part of Spain in May next year or not, it has set in motion a process that will not contain itself within the limits of national borders.
Photo: Last June, municipalists around the world gathered in Barcelona for Fearless Cities event. Credit: Barcelona En Comú / Creative Commons