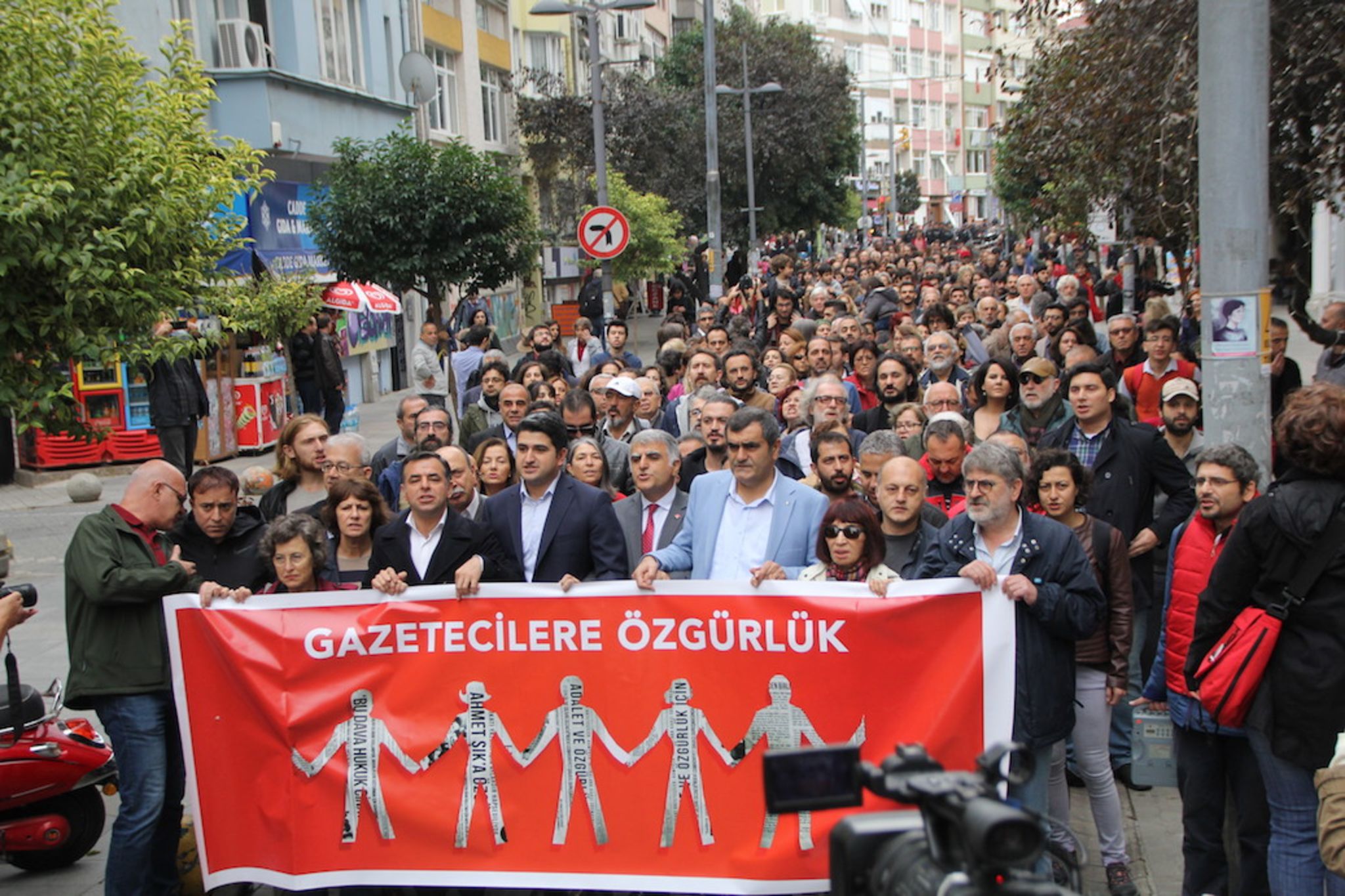 "I'm facing 14 years and 6 months in prison," says Erol Önderoğlu. He says it so casually that I almost miss the gravity of the statement. But it's serious – he was arrested for taking part in a solidarity campaign for the banned Kurdish publication, Özgür Gündem. Along with two others, he was placed in pre-trial detention for ten days, a month before the coup attempt in 2016. "We're accused on the basis of three articles of which we had no knowledge. We just participated in an editorial meeting, but the judiciary held us responsible for stories released the following day, covering military operations in the Kurdish provinces." Under Turkey's controversial Anti Terror Law, the three stand accused of alleged involvement in the spread of terrorist propaganda as well as inciting and praising criminal activity.
Unable to maintain the same calm composure, Arzu Yıldız tells her story: "The police came to my house for the first time on July 17, two days after the coup – I was the first journalist they came for. I had no relationship with the coup, the Gülen movement or any other groups; I am a liberal. But the government started investigating me before the coup attempt because I was writing about corruption; I think they were scared about what I would write next." A pause as she lights another cigarette. "I lived more than five months underground. It was a living hell. No one wanted to talk to me or help to hide me because everyone is afraid of the government and knows that there is no justice. So I decided to escape." Forced to leave her young children behind, she made it to Canada, where she now lives as a refugee. There's a defiance in her voice as she adds: "If you are a true journalist, you can lose everything in just one day."
These stories from two prominent journalists might sound shocking, but they are typical of Turkey at the moment. According to the 2017 end of year report by the Committee to Protect Journalists (CPJ), Turkey remains the world's worst jailer of journalists for the second year running. It's a disheartening accolade, and it gets worse. While the CPJ records 73 journalists behind bars, by other accounts there are around 150 journalists, media workers and writers currently in prison. Thousands more have lost their jobs, their press cards and their passports. Journalists that remain operating in what is left of the 'opposition' or 'independent' media, work under the heavy burden of self-censorship, and threat of dismissal and arrest.
The crackdown intensifies
The crackdown on the Turkish media has intensified since the coup attempt, the subsequent implementation of a state of emergency and the purge of the potential opposition figures in the media, politics, academia, and state apparatus. Prior to this, it was mostly Kurdish journalists that were at risk of prosecution. Now they come for anyone with even the most tenuous affiliation to the Gülen movement (held responsible for the coup attempt) as well as minorities, leftists, liberals, and anyone who dares to hold the government to account.
Yet media oppression in Turkey is by no means a new phenomenon. There have long been threats to the free press. Since 2005, prosecutors have used the ambiguous Article 301 of Turkish Penal Code to muzzle those accused of insulting 'Turkishness' (this replaced the similar Article 159 of the previous Turkish Criminal Code in place since 1926). High profile cases include those against award winning authors Orhan Pamuk and Elif Shafak, as well as the murdered Turkish-Armenian journalist, Hrant Dink. Aware of the damaging effect this was having on Turkey's international image, the wording was changed in 2008, so the article now makes it illegal to insult: Turkey; the Turkish nation; or Turkish government institutions. Other charges that have been brought against journalists in recent years include spreading terrorist propaganda, espionage, revealing confidential documents, and being a member of a terrorist organisation.
Pressure on the media has been growing since the Gezi Park protests erupted in Istanbul in 2013, fuelling a nationwide outpouring of anti-government sentiment. The cracks began to show, and six months later a corruption scandal broke involving those in the highest levels of the Turkish government. Shortly after this, in 2014, Recip Tayyip Erdoğan's ruling Justice and Development Party (AKP) passed a bill granting the government the power to block internet sites. Twitter became a personal target for Erdoğan – it was banned for two months. Broadcast bans have also become commonplace procedure after major incidents, allowing the government to control the way news is reported.
In the general election of June 2015, Erdoğan's AKP failed to win an outright majority for the first time since coming to power in 2002. At the same time, the left-wing pro-Kurdish People's Democratic Party (HDP) party broke through the 10 percent threshold required for it to have its representatives in the Turkish parliament – a shift in the balance of power that would have thwarted Erdoğan's ambitions of creating an executive presidency. In the months that followed, peace talks with the Kurds broke down, and violent conflict between the Turkish state and the Kurdistan Workers' Party (PKK) was reignited. Consequently a rise in nationalist and anti-Kurdish sentiment saw the AKP claw back votes from both the HDP and the National Movement Party (MHP) to increase their share of the votes in the snap elections held in November of 2015 from 40.9 percent to 49.5 percent.
The creation of 'pool media'
The lack of opposition media and the overwhelming volume of pro-government media provided an additional campaign tool for the AKP who could rely on the latter to repeat their refrain that the election offered a choice between stability (returning the AKP's majority) and chaos (any alternative). In order to achieve this, due to alleged financial difficulties, newspapers and media groups were seized by a government-affiliated body and then bought by pooling funds by pro-government businesses, who subsequently landed large government contracts. This created what is known as 'pool media' and six of the country's top fifteen newspapers fall into this category. They all tend to follow the same format and reproduce similar pro-government content.
Speaking about the implications of this, Önderoğlu (who works as the Reporters Sans Frontières representative in Turkey) said: "When you take into consideration the fact that 80 percent of the media market already belongs to pro-government circles you can see that what we are trying to do now is ensure the protection of the remaining 20 percent of the critical media. We are going through a very tragic and alarming process at the moment – will we be eventually be living in a country when critical media is entirely silenced? Will Kurds, Alevis, leftists, and secular types still have a voice in this country?".
This reduction in critical voices can obviously have a direct impact on the state of democracy in Turkey. Yet I spoke to another freelance journalist (who preferred to remain anonymous) who thinks that the power of the pool media has been overstated: "Although those newspapers are dominant in the media landscape, I don't think anybody who is not already an AKP supporter is going to read them – it's like preaching to the converted. Television remains the number one news source in Turkey. And the problem is, if a Turkish citizen is interested in getting news that is not tailored to the benefit of the government, there are far less sources to go to – especially on television. It's self-censorship and the reduction in critical outlets that are the major threats to Turkish media and consequently to its democracy."
A new media emerges
During the referendum campaign of 2017, which canvassed the electorate's support for amending the constitution to increase Erdoğan's presidential powers, the majority of the mainstream media was firmly in the Yes camp. Those seeking an alternative voice turned to the new independent media that has sprung up online – rising from the ashes of a besieged free media. Özgürüz (meaning 'we are free') is an online news website set up by Can Dündar, the former editor of the Cumhuriyet newspaper, who lives in exile in Germany with an arrest warrant out against him in Turkey. Medyascope broadcasts via Periscope and won the International Press Institute's Free Media Pioneer. And then there are the more established websites like Platform for Independent Journalism (P24), Bianet, and Sendika, which has to frequently change its URL to dodge government blocks. So much so in fact, that it recently applied for a Guinness World Record as the news website that has been subjected to (and overcome) the most access blocks  taking the crown from the now shut down Kurdish news agency, Dicle Haber Ajansi that had been blocked 48 times.
It's not just journalists posting on traditional media that are under threat. The International Press Institute has collected data on 950 instances of online threats and harassment directed at journalists on social media. Just this week, 91 people including at least four journalists have been detained over tweets critical of the Turkish military operation in the Afrin. As one anonymous journalist said of the current situation: "We live in a political atmosphere in which if you voice concern about your country or offer opposition to any government policies, you can automatically be labelled as a traitor or terrorist, government trolls may come after you on social media, your accounts may get hacked, you could be imprisoned. You can't be certain of what will happen and to what degree – but bad things will happen to you if you speak out."
Perhaps the most defining aspect of this time is that journalists are working in fear because they have lost faith in their own judiciary. Last week, there was international condemnation after Turkey's constitutional court ordered the release of two journalists and local officials refused to do so. The judiciary may have once been the target of EU reforms, but as Önderoğlu notes: "We are no longer in a country negotiating for access to the EU. We are living in a country exposed to state of emergency and the liquidation of its human rights heritage – I cannot expect anything from this judiciary working under government obligations and I cannot expect anything from this government."
In the recently published 2018 Freedom of the World report by independent watchdog organisation Freedom House, Turkey's status declined from 'Partly Free' to 'Not Free', a significant slide down the scale from democracy. Besides the thousands of individuals being persecuted, with almost 200 media outlets shut down, it is perhaps media pluralism that has suffered the most. And a free media that can fulfil its watchdog function in holding the government to account for its actions is one of the key requirements for a democracy. More worrying reports have emerged from the Afrin conflict – of the AKP government gathering editors of Turkey's leading media outlets to give them recommendations on how to cover the offensive in 'patriotic' way. With the vast majority of mainstream media working under the influence of the media to parrot the government line, Turkey's slide to authoritarianism steadily continues.
Featured image © Emre Orman